Industry: Entertainment
Challenge:
Developing a mobile application for searching for company and booking meetings.
About the project:
We received an order from a Marketing Agency that aimed to create an application for ordering company for nice social meetings by clients. Each order was to be anonymous.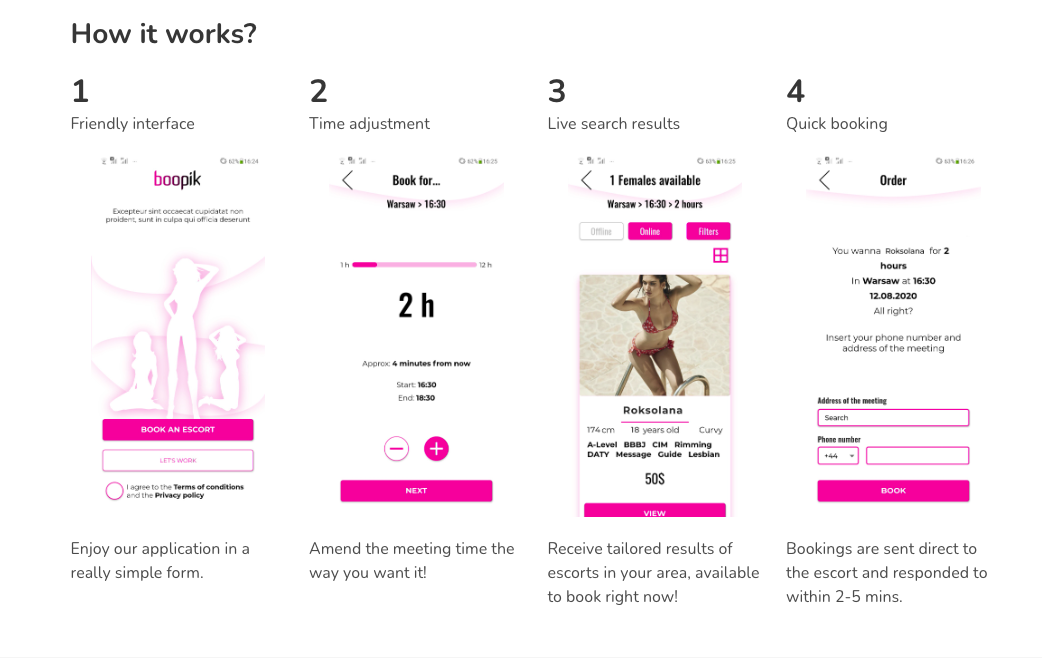 What we did:
In the first place, we took care of the application prototyping, compiling available information architecture and creating wireframes. We fastened each view in the form of a clickable mockup.
Designing the logotype had its process from the concept of the proposals to the decision of finally refining one logotype. The logotype that has been selected and appreciated has a gradient and consists only of letters.
After the logotype was created, it was time for designing the graphic interface. Each view was to be legible and consistent with the colours of the logotype. A challenge occurred — the goal was to create the shortest ordering process, that would consist from as few steps as it's possible.
Under the hood of the project there is a backend in the firebase and a Laravel on the side of Vue.js front. We used flutter for the mobile application frontend and UI development. It is a cross-platform framework, so once written, code can be used on multiple platforms. Thanks to that, we can reduce the overall cost and time of development process.
Develop with us
Do you have an interesting idea for a mobile or a web application? Share it with us. We can help you with the development.

hello@softgorillas.com